Friday, June 02, 2006
Congratulations Tom Ascol!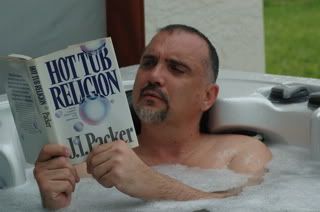 Tom Ascol
celebrates his twentieth anniversary of pastoring
Grace Baptist Church
this week. Today he blogs on this milestone: "
Twenty years at GBC
." Here is how he begins:
This week marks my 20th anniversary as pastor of Grace Baptist Church in Cape Coral, Florida. It is a milestone worth noting because of its testimony to the grace of God working within a local church. Early in my ministry when I heard of a pastor who stayed a long time serving one church I could not help but admire him. Now I admire much more the churches where that kind of longevity is encouraged. Anytime you hear of a long pastorate you can be sure that it is a testimony to a gracious congregation. That is certainly true in my case.





They have given me room to grow, encouraged the development and exercise of my gifts, overlooked my eccentricities and been generous and conscientious in their support. They have loved me and my family (which doubled in size from when I first arrived) and have followed my leadership through some uncertain and difficult times. The name fits the church.
Congratulations Tom! I pray that God will continue to bless you in your ministry as you faithfully serve Him.
At the same time, I have to admit, I am not sure that I wanted to see a picture of you in a hot tub . . . I mean "therapeutic spa."

posted at
2:00 PM
Comments (2)